Welcome to Tallo, Future Earlham College Students!
Earlham College is proud to partner with Tallo to identify future talent, like you! Tallo supports all levels of talent with identifying career pathways, applying to internships, and connecting with up to $20 billion in scholarships to support your dreams and college career. Connect with Earlham College by creating your free Tallo profile!
Join Tallo Today!
Tallo allows you to share your bragworthy accomplishments with schools, companies and organizations you might be interested in. We'll connect you with those opportunities along with countless scholarships, events and more!
Already a Member?
If you're already a Tallo member, it's time to get started. Share your interest in Earlham College on this easy form.
Important Resources for Future Earlham College Students
Here, you can find everything you need to build an attention-grabbing profile and use Tallo to apply for internships, scholarships, competitive events and so much more.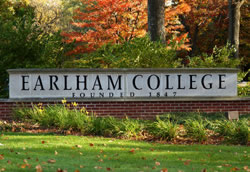 Earlham College, an independent, residential college, aspires to provide the highest-quality undergraduate education in the liberal arts and sciences, shaped by the distinctive perspectives of the Religious Society of Friends (Quakers).