Companies are often baffled by Generation Z and their ability to navigate the digital space and technology with an ease not seen in other generations. This is especially true when it comes to recruiting. Tallo's Gen Z Survey completed in December of 2019 made one thing very clear: Gen Z wants to be recruited for companies, colleges, and organizations through email and professional platforms like Tallo or LinkedIn—not social media.

We conducted a survey of 512 high school and college students from November 20, 2019 to December 2, 2019 in order to better understand Generation Z's attitudes toward personal and professional branding, communication preferences, and how potential employers can appeal to their interests.

Here's what we learned: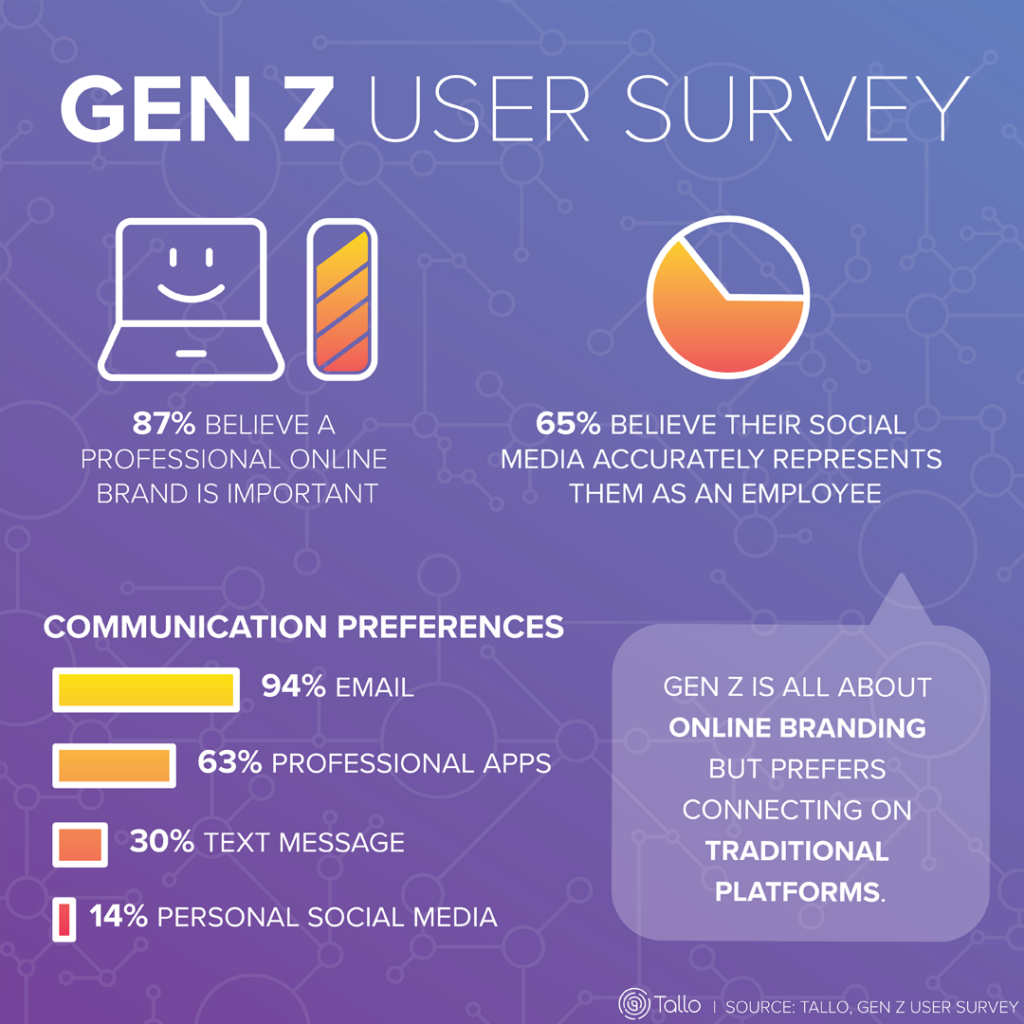 1. Gen Z expects companies to see their personal and professional brands before reaching out.
87% of Gen Z respondents said they believe building a professional brand online is important. They work hard to communicate their interests and showcase their experience, from projects to test scores to various affiliations like HOSA, FBLA, and more. Perhaps because of how much time and effort they put into building their brands, Generation Z wants employers to take a look at them in the digital space and do their research. In fact, 91% agree that a potential employer should know professional details about them, and 62% feel they should also know personal details. This means they expect to be viewed from social media to career websites, and they know their digital signature follows them everywhere they go.

But—and this is a big but…

2. Generation Z does not want to be contacted by employers on social media.
Sure, they know that you're going to be researching them, what they do, how they spend their time, and how that can make them the right or wrong candidate. But, when it comes to communicating, being contacted on social media ranked last (14%) in terms of preferences. The preferred means of communication? Email at 87% and professional social media platforms like LinkedIn or Tallo at 63%.

3. Gen Z prefers looking for their next opportunity on company websites (85%), job search sites (75%) or career services (60%).
Interestingly, social media is also the last place Gen Z looks to find potential employers (35%). While Gen Z expects to be seen by companies on social media, and they might be looking at companies themselves on social media, they value going right to the source to find information about a business. The takeaway? Make sure you have a great representation of your brand, your company's culture, and the sort of employees you're seeking if you're a company looking to recruit Gen Z.
So what else should you know? Gen Z respondents told us a few interesting facts that may be helpful to companies looking to recruit this new graduating class:

4. 99% of respondents find it important to have a personally fulfilling job.
5. 43% of respondents expect to stay at their job for over three years, and 26% said they expected to at least be at the same job for two to three years.

6. 88% of Generation Z respondents would pursue a job that was a clear fit even if they were unfamiliar with the company.

Note, only 44% are likely to work for a company they have heard of if the opportunity isn't an obvious fit.

In summary, Casey Welch, our CEO here at Tallo, said it best: "Employers need to be more conscious of marketing their specific opportunities than bringing awareness to their overall brand. Engagement-heavy platforms that allow for personalization of the user experience should be prominent in recruiting strategies." This means, knowing how Gen Z builds and distinguishes their personal and professional brands will help companies and colleges connect with them. Conversely, it will help businesses market themselves in the best way possible to recruit this next generation of talent.