The Golden Gate Bridge. The World Trade Center. The Space Needle. Each of these awe-inspiring structures—along with just about any other modern structure you can name — was built by the skilled hands of journeyman ironworkers. It's no wonder why ironworkers take such pride in their craft! 
Ironwork is a highly respectable trade and a fast-growing profession to boot. Best of all, ironworking is an earn-while-you-learn gig. The vast majority of ironworkers get their start through apprenticeships that allow them to earn money while learning the skills they need to become a journeyman ironworker. 
If you want to join the iron-working industry, scoring an apprenticeship is a great way to get your foot in the door. So, are you ready to build your career? Here's everything you need to know about ironworker apprenticeships.

What Is an Ironworker Apprenticeship?
An ironworker apprenticeship is a three-year or four-year training program that equips you with the necessary skills you need for a successful career in ironworking. These programs are usually sponsored by labor unions or contractor associations and involve a combination of on-the-job training and paid work. 
Related Reading: What Is an Apprenticeship?
As an ironworker apprentice, you'll work under the close supervision of a journeyman ironworker, learning the ins and outs of the trade like how to measure, cut, and handle rebar and how to use common ironworking tools (spud wrench, sleever bars, drift pins, and others).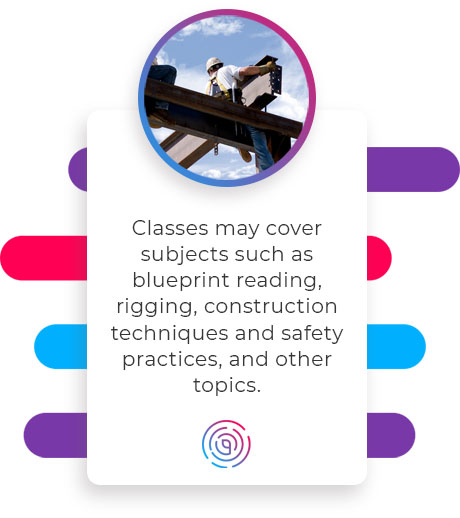 Along with on-the-job training, you'll also be required to attend classes to learn more about the trade. These classes may cover subjects such as blueprint reading, rigging, construction techniques and safety practices, and other topics related to ironwork.
Related Reading: How to Build a Career with a Construction Apprenticeship
What Types of Work Do Ironworkers Perform?
When most people think of ironworking, they think of structural ironworkers — aka, the ones who erect buildings and bridges. However, there are actually three main types of ironworkers: structural, reinforcing, and ornamental.
Structural:

Structural ironworkers read blueprints and put together cranes that will lift steel columns and beams. They signal crane operators who lift prefabricated beams and help with structural positioning and reinforcement.

Reinforcing:

Also known as rodmen, reinforcing ironworkers set steel bars to reinforce concrete structures. Rodmen place steel bars on supports and tie the bars together with tie wire to reinforce the bars.

Ornamental:

Ornamental ironworkers install metal windows into a building's masonry, erect curtain walls, and install metal stairways, floor gratings, and decorative ironwork on fences and balconies. Ornamental ironworkers have the knowledge and ability to cut and work metal on the job.
Related Reading: How to Get a Welding Apprenticeship
How Do I Get an Ironworker Apprenticeship?
There are a few ways to score an ironworker apprenticeship. One is to reach out to your local ironworker union and ask about their apprenticeship training programs. 
You can also find apprenticeship opportunities through the Tallo app (hint: that's us). If you're still undecided on a career path but know that you want to work in the trades, we can connect you with plumbing apprenticeships, welding apprenticeships, electrician apprenticeships, and more.
How Much Will I Make as an Ironworker Apprentice?
Most apprentice ironworkers can expect to make 60-65 percent of a journeyman ironworker wage. (According to the Bureau of Labor Statistics, journeyman ironworkers made an average salary of $53,650 in 2019.) Keep in mind that your wages will increase at regular intervals as you gain more experience. And if you score a union apprenticeship, you can get seriously amazing benefits to boot.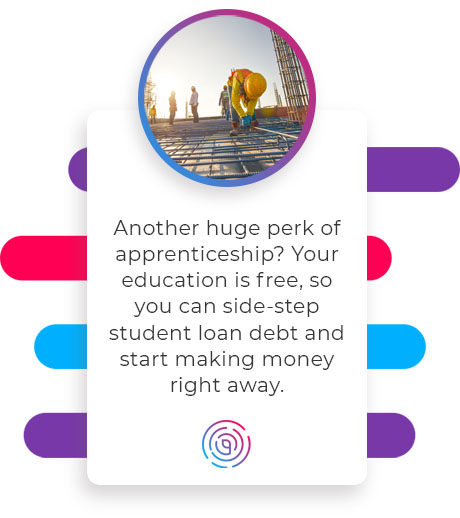 Another huge perk of apprenticeship? Your education is free, so you can side-step student loan debt and start making money right away.
What Does It Take to Be an Ironworker Apprentice?
On paper? Not much. Although ironworker apprenticeship requirements may vary slightly based on the program, most require that the applicant be at least 18 years old, have either a high school diploma or a GED, and be in good physical condition. Ironworkers often travel to job sites out of town, so a valid driver's license is also a necessity.
Ironworking can be a tough industry. If you really want to be successful in this trade, here are a few helpful qualities to possess:
Nerves of Steel —

Ironworkers often perform work on narrow beams from nerve-wracking heights (they don't call them

"cowboys of the sky"

for nothing). Even though you're wearing safety equipment, it can be pretty scary.

Balance —

Again, see back to our comment about walking on narrow beams. It helps to be sure-footed, agile, and have a good sense of balance to keep yourself from falling.

Hand-Eye Coordination —

Ironworking calls for good hand-eye coordination and a steady grip for tying rebars quickly and learning how to weld properly.

Basic Math Skills —

Ironworkers may need to have basic math skills to calculate tension and angles. If you're bad at math, don't worry — you'll probably get a refresher in the classroom portion of your apprenticeship.
Building Your Future from the Ground Up
If you're thinking about getting into ironwork, an apprenticeship is an excellent (and affordable!) way to learn the trade. You can build your career from the ground up—quite literally—and eventually become a supervisor or even start your own ironworking business. 
Image Credits
Source: Bannafarsai_Stock/Shutterstock.com
Source: Dwight Smith/Shutterstock.com
Source: goodluz/Shutterstock.com