Newsflash: College can be pretty dang expensive. But just because you have your heart set on earning your degree doesn't mean that you need to pay a freakin' arm and a leg for it. The truth is, there are tons of ways to potentially get around that big sticker price, from applying for college scholarships and grants to enrolling in a work-study program. 
Another savvy way to lower the price tag on your education? Attending a free community college.
Hold up, did you just say community college is free? Seriously?
Yep, seriously. Some states and colleges offer programs that make it possible for students to get their associate's degree at a community college for free. Well, almost for free. (There are some caveats, which we'll discuss below.) The point is that a college education can be affordable. Here's how.
Is Community College Free? What You Need to Know 
When people talk about community college being free, they're likely referring to the state or college offering a tuition-free program. 
So, is community college free? Not exactly. If you're eligible for a tuition-free program, you'll still need to find a way to pay for indirect costs such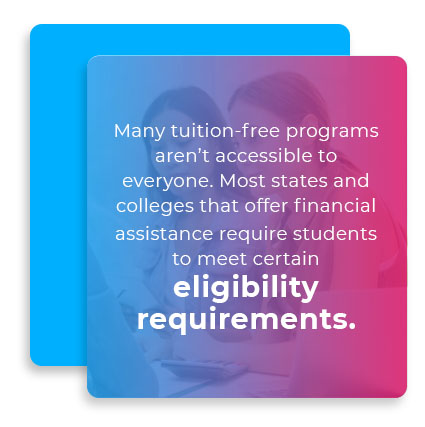 as books, housing, and transportation. (Thankfully, you can cover some — if not all — of these costs by using a combination of grants, scholarships, and a work-study job.)
Related Reading: Grant vs. Scholarship – What's the Difference?
Another important caveat we should mention is that many tuition-free programs aren't accessible to everyone. Most states and colleges that offer financial assistance require students to meet certain eligibility requirements. These requirements often involve the student having a strong financial need or holding a certain GPA.
Related Reading: What Is a Need-Based Scholarship?
Which States Offer Free College?
One way to attend community college for free is by taking advantage of your state's so-called promise program.
What is a promise program? First, a quick history lesson. Back in 2015, then-President Barack Obama first proposed making community college free on a national level. Many states decided to adopt their own promise programs, which offered early commitment of financial aid to local students.
In recent years, more states have passed legislation that makes community college free for eligible students. Here is a list of states that offer such programs:
Arkansas

California

Delaware 

Hawaii 

Indiana

Kentucky

Maryland

Missouri

Montana

Nevada

New Jersey

New York

Oregon

Rhode Island

Tennessee

Washington
Other states have legislation in the works, so if your state isn't on this list, check anyway! They may now have a program in place.
My State Doesn't Have a Promise Program — Now What? 
Don't write off your college dreams just yet. If your state doesn't have a promise program, they almost certainly have other forms of funding that can help you pay for college. 
For instance, government-funded grants such as Pell grants can make college more affordable for students who display financial need. Be sure to look into local and state grants that can potentially help you bring down the cost of college.
Another form of financial aid you shouldn't overlook is college scholarships. Scholarships can be awarded for literally everything. The best part? They don't need to be paid back! It's free money with no strings attached. You can read our blog – How Do Scholarships Work? – to get the lowdown on earning scholarship dough.
Colleges That Offer Free Tuition
There are a handful of colleges throughout the United States that don't charge anything (read: $0) for tuition. Of course, it's always important to read the fine print. Schools that offer free tuition often have fairly strict eligibility requirements.
For instance, you may be required to work on campus for the duration of your study or perform services for the school after you graduate. Some schools also require that you live in a certain state or come from a low-income background.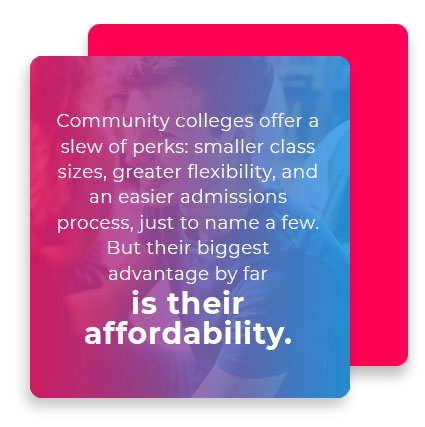 Here are a few schools that are notable for offering free tuition:
Berea College – Berea, KY

Alice Lloyd College – Pippa Passes, KY

College of the Ozarks – Point Lookout, MO

The Apprentice School – Newport News, VA

Barclay College – Haviland, KS

Curtis Institute of Music – Philadelphia, PA

Warren Wilson College – Asheville, NC

Webb Institute – Glen Cove, NY

Deep Springs College – Deep Springs, CA

Williamson College of the Trades – Media, PA
Getting Your Degree for Free
Community colleges offer a slew of perks: smaller class sizes, greater flexibility, and an easier admissions process, just to name a few. But their biggest advantage by far is their affordability. And by taking advantage of multiple forms of financial aid, you can potentially end up paying $0 for tuition. Talk about a sweet deal!
Image Credits
Source: Rawpixel.com/Shutterstock.com
Source: Blue Planet Studio/Shutterstock.com
Source: Freeograph/Shutterstock.com