Throughout school, you hear a whole lot about the bachelor's degree — the four-year degree that you earn after delving deep into a particular area of study, usually at a traditional university — and rarely about its underrated little sibling, the associate's degree. Associate's degrees differ from bachelor's because they typically only take two years to complete and may be earned through community colleges, technical colleges, vocational schools, and other programs.

The Definition of Associate's Degree
An associate's degree is an undergraduate degree earned after completing two or three years of post-secondary study in a certain area. Often, students earn an associate's degree and then go on to earn their bachelor's degree after two more years in the same or a more advanced program. At other times, students go directly from graduation to a chosen career. In the United States, some of the most common associate's degrees are the Associate of Arts (AA), Associate of Sciences (AS), and Associate of Applied Sciences (AAS), but we'll cover that more in-depth below.
What Are the Best Associate Degree Jobs?
What about associate's degree jobs? Surprisingly, there are many high-paying jobs that require only a two-year degree, many of which can earn you as much as jobs that require a four-year degree. According to a report from USA Today, associate holders can earn over $120,000 per year, depending on their desired career paths. The report shows that the highest-paying associate's degree jobs and their median annual wages are:
Air traffic controllers ($124,540)
Radiation therapists ($82,330)
Funeral service managers ($79,180)
Nuclear technicians ($79,140)
Nuclear medicine technologists ($76,820)
Dental hygienists ($74,820)
Diagnostic medical sonographers ($72,510)
Magnetic resonance imaging technologists ($71,670)
Web developers ($69,430)
Aerospace engineers and technicians ($67,010)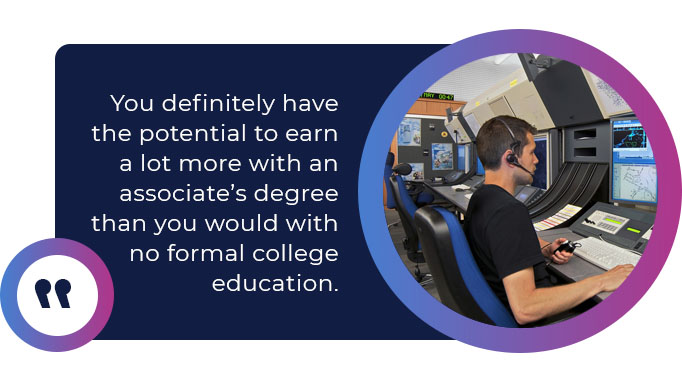 Will You Earn More with an Associate's Degree?
As you can tell, there are many high-paying careers that require only an associate's degree. And, yes, you definitely have the potential to earn a lot more with an associate's degree than you would with no formal college education. According to the U.S. Bureau of Labor Statistics (BLS), people with an associate's degree earn median weekly earnings of $836 ($48,097 per year), whereas people with a high school diploma earn median weekly earnings of $712 ($40,963 per year), and people with less than a high school diploma earn median weekly earnings of $520 ($29,917 per year).
The pay gap between people with associate's degrees and those with bachelor's degrees is still wide, though. In fact, the BLS reports that those with at least a bachelor's pull in about $1,173 per week ($67,485). With that being said, there is evidence indicating that future economies will rely less and less on four-year degrees as companies struggle to fill roles in technology and science that once required a traditional bachelor's degree.
Kinds of Associate Degrees
There are two main kinds of associate's degrees: occupational and academic. Occupational associate's degrees are those that are designed to prepare students for the workforce immediately after the two-year program has been completed. On the other hand, academic or transfer associate's degrees are meant to prepare students to transfer to a four-year university or bachelor's program where they will continue their education.
Occupational Associate's Degrees — An example of an occupational associate's degree is the Associate of Applied Science (AAS), which is awarded to students who major in subjects such as nursing, accounting, web design, or veterinary technology. Typically, these students are career-ready after two years in a particular AAS program. Another example of this kind of degree is the Associate of Applied Technology (AAT), which prepares students for careers in fields such as welding, construction, HVAC, or electric.
Academic (Transfer) Associate's Degrees — An example of an academic associate's degree is the Associate of Arts (AA), which is awarded to students who complete programs in the liberal arts (history, social studies, math, humanities, etc.) and is usually seen as a stepping stone to a bachelor's degree. The Associate of Sciences (AS) is similar, only students in this field focus on the sciences, such as biology, physics, psychology, anthropology, or sociology.
The field in which you want to work isn't necessarily the only thing that should guide you to either an occupational or academic associate program. For example, those curious about engineering may consider both tracks. The Associate in Engineering Technology (AET) degree is considered an occupational degree that readies students for careers after graduation, whereas the Associate in Engineering (AE) is generally seen as a transfer degree for those who want to delve into advanced engineering studies.
Should You Get an Associate's Degree?
Getting an associate's degree is clearly an excellent way to build your career, regardless of if you want to get to work as soon as possible or eventually transfer to a four-year program. It's also a "safe bet" career-building route since it doesn't require you to make a lengthy commitment. On top of that, an associate's degree costs significantly less than a bachelor's (about $10,000 compared to about $19,500 at public colleges). Unless you're seeking a very traditional college experience or know you want to pursue a four-year degree at some point, an associate's degree is a fantastic starting point for your career!