We're gonna go out on a limb here and say that writing essays for college scholarships isn't your idea of a good time. In terms of fun, it probably ranks somewhere between doing the dishes and slogging your way through Pre-Calc homework.
The good news? Not all scholarships require you to write an essay that describes your life story in painstaking detail. By applying for "no essay" scholarships, you can skip the essay portion altogether and enter to win hundreds — maybe even thousands — of dollars in scholarship dough to help you pay for school.
So, how do no essay scholarships work? Are these awards legit? Below, we'll explain everything you need to know about no-essay scholarships.
Related: How Do Scholarships Work?
What Is a No Essay Scholarship?
Filling out scholarship applications can be tedious AF. Many scholarship awards want students to meet certain college GPA requirements, submit letters of recommendation, and write a thoughtful essay. Needless to say, jumping through all these hoops to earn scholarship dough gets old fast. 
Enter: No essay scholarships, an "easy scholarship" that doesn't require students to write a mind-numbingly boring essay. You just fill in your basic information and boom — you're done in like five minutes.
How Do No Essay Scholarships Work?
Unlike merit-based and need-based scholarships, no-essay scholarships usually aren't awarded based on achievements or financial need. Instead, they often come in the form of a sweepstakes — you fill in your information, cross your fingers, and hope that the scholarship gods (aka, sheer luck) are on your side.
For some no-essay scholarships, there may be an additional step to take for entry into a monthly scholarship drawing. For example, scholarships offered by Niche and Tallo often ask students to create a free account or profile for the chance to win thousands of dollars in scholarship dough. In our (admittedly biased) opinion, that's a pretty good deal — especially considering that you can use your Tallo profile to find more easy scholarships.
Related: Is Niche Legit?
APPLY TO TALLO'S NO ESSAY SCHOLARSHIPS
So, What's the Catch?
This all sounds too easy. There has to be more to the story, right? And the answer is: potentially.
To be entered into a no-essay scholarship, students must usually provide basic information about themselves. Scholarship websites may then turn around and sell this information to colleges and marketing companies.
Shortly after, you might start hearing from randos out of the blue. Put another way: R.I.P. your email inbox and voicemail.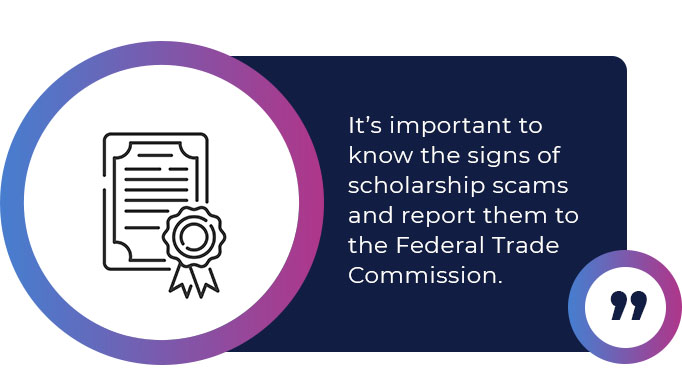 Other no-essay scholarships are straight-up scams. That's why it's important to know the signs of scholarship scams and report them to the Federal Trade Commission. For the record, you should NEVER pay to apply for scholarships — period.
Should I Apply for No Essay Scholarships?
That's totally up to you. Many students find no essay scholarships to be one of the easiest ways to land free money for school. And yes, students do actually win them.
But no essay scholarships shouldn't be the only type of scholarship you apply for. Why? Because as you can probably imagine, no essay scholarships are extremely popular due to their low barrier of entry. Therefore, your chances of winning a no-essay scholarship are lower.
Bottom line? You should apply for a variety of scholarships and use no essay scholarships as a way to give yourself a much-needed break from essay writing. That way, you'll maximize your chances of winning free money!
How to Apply for No Essay Scholarships
First, you'll want to create an email solely for scholarship applications. This will keep your main inbox from getting loaded with spam. Make sure that your email address is professional-sounding.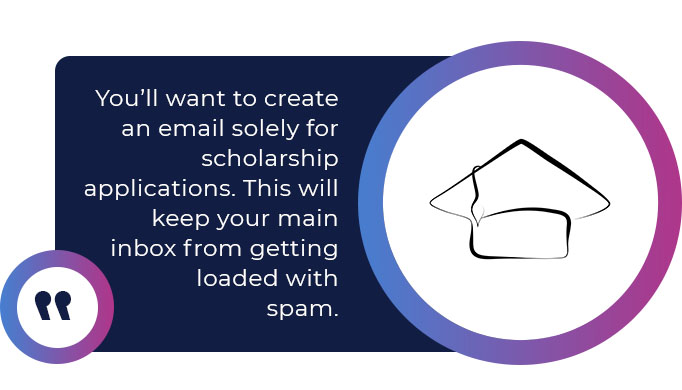 Next, register for a free account on reputable scholarship sites like Tallo and Niche that make it super easy to find no essay scholarships. After that, it's just a matter of knowing when to apply for scholarships and keeping track of important deadlines.
Get Free Money for School
Scholarships are, hands down, one of the best ways to pay for school. Unlike student loans, scholarships are gifts that don't need to be paid back. But to maximize your chances of winning, you need to diversify your scholarship search. That means filling out the occasional essay in addition to applying for no essay scholarships. If you're lucky, you might just win enough financial aid to cover the entire cost of college tuition.
Image Credits:
Source: ALX1618/Shutterstock
Source: Rawpixel.com/Shutterstock
Source: Davdeka/Shutterstock