As COVID-19 vaccines become more readily available and CEOs across the country are asking "to return or not to return?" [to the office], it's critical that employers consider Generation Z's workplace expectations. 
Many members of Generation Z are preparing to graduate and will be entering the workforce for the first time. Others are finishing up their first year of full time work in an entirely remote environment. As the youngest generation in the workforce, they must be an important part of companies recruitment and retention plans. So as employers are putting together all the pieces of the return to work puzzle, we went straight to Gen Zers to get their take. For more Gen Z info, check out our past year of Tallo data insights here. 
First thing's first: Get your employment opportunity in front of them the right way. 
The top three channels Gen Z turns to to build their professional brand online are Tallo, LinkedIn, and job board sites like Indeed and Ziprecruiter. These online tools ranked much higher than certain personal social media platforms, such as TikTok and Twitter. 
Additionally, Gen Z is significantly more inclined to use email over any other mode of communication when it comes to a potential employer contacting them about a job opportunity. Ninety four percent of Gen Zers selected email as the number one channel they want employers to use to contact them about jobs. Phone calls (52%), text messages (49%), and professional social media sites like Tallo or LinkedIn (45%) were next on their list, while personal social media sites like Instagram ranked dead last (8%). This ranking hasn't changed much since we first asked Gen Zers' this question in 2019.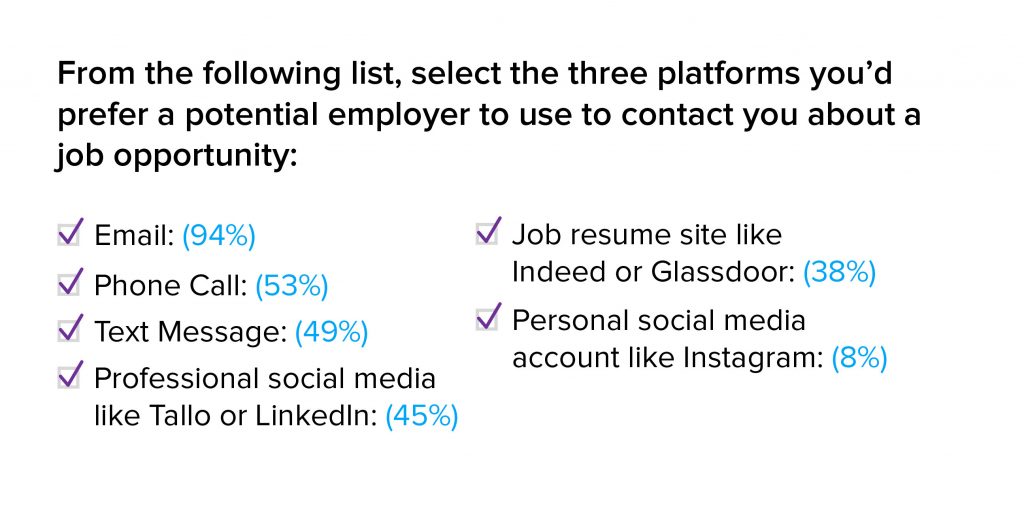 Despite TikTok's recent news that they're launching a new tool to help users find jobs on the app, only 5% of Tallo's Gen Z survey respondents reported that they'd turn to social media to find more information about a potential employer.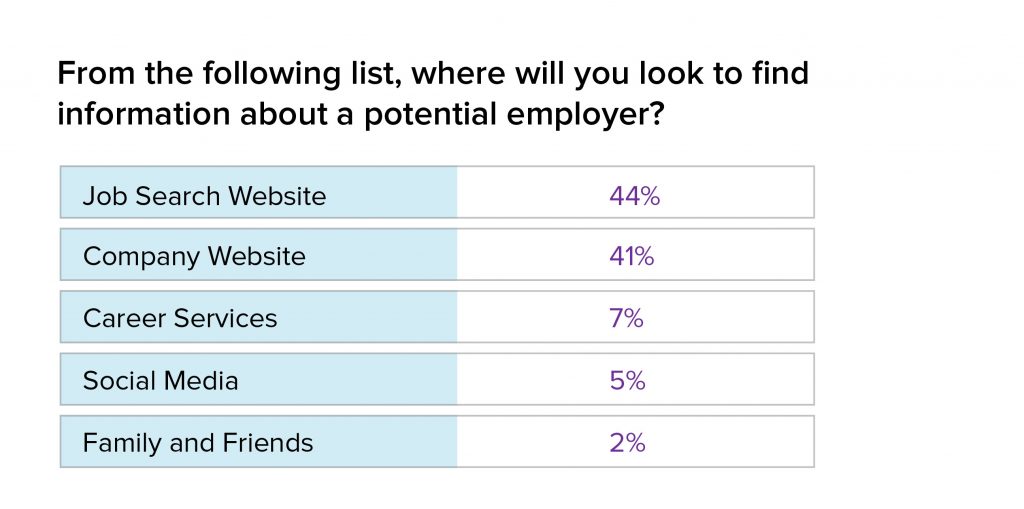 Does Gen Z want to be in an office, or work remotely? 
The short answer is: both. The majority of Gen Zers (63%) are most interested in working in a hybrid setting (ie, both in an office and remotely). Twenty seven percent want to work in an office full time, and 8% want to work remotely full time. This preference for a hybrid work environment is down slightly from 2020, when 74% of Gen Zers told Tallo they'd prefer a hybrid work environment.
What's more, choosing an employer based on geographic location is back on the rise. According to this most recent survey, 42% of Gen Z find location very important when considering a job, compared to 39% in mid-pandemic 2020 and 51% in 2019.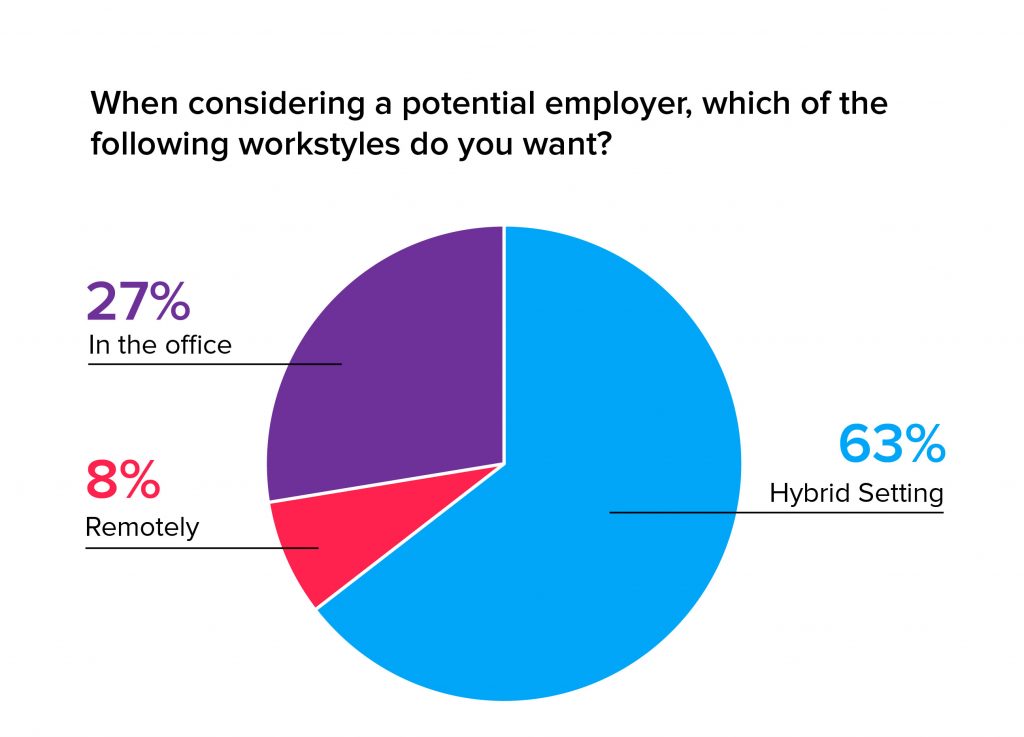 Provide Gen Z the right type of incentives. 
For this next generation taking the workforce by storm, they've made it clear that making a personal connection to their job is key. What's more, this desire for fulfillment has significantly increased for the majority of Gen Zers during the turbulence of this past year. Sixty nine percent of Gen Z respondents said it has become more important in the past year to find a job that is personally fulfilling. 
Over the past year, the top three factors that would motivate Gen Z to accept a job offer haven't changed. When we asked this question in 2020 and again in 2021, the top three factors Gen Zers are drawn to are salary, interest in the work, and work life balance.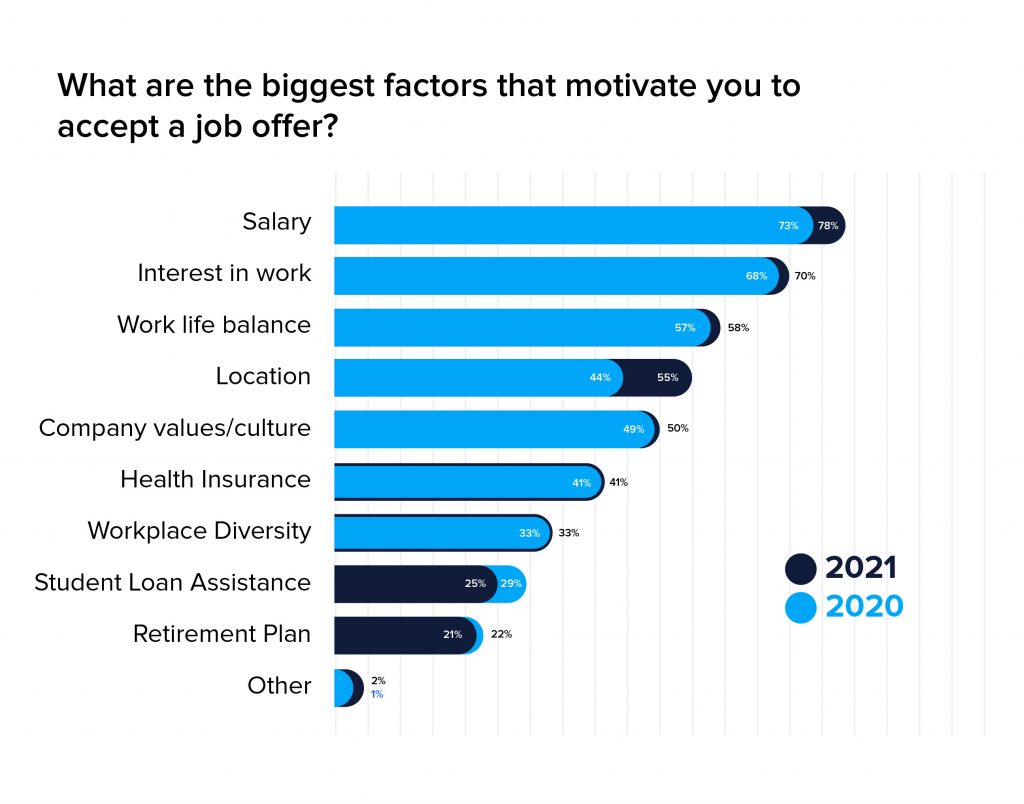 Advancing Diversity, Equity, and Inclusion is critical.
Generation Z is more diverse than any previous generation, and past Tallo surveys have proven that the vast majority of Gen Zers believe it's important for them to work in a diverse and inclusive environment. However, diversity, equity, and inclusion (DEI) is a broad term, so focusing efforts may help employers stand out to a Gen Z audience. Gen Z survey respondents reported that women in leadership; diversity and inclusion training and discussions; and people of color holding leadership positions are the top three DEI initiatives they're looking for in their future workplace.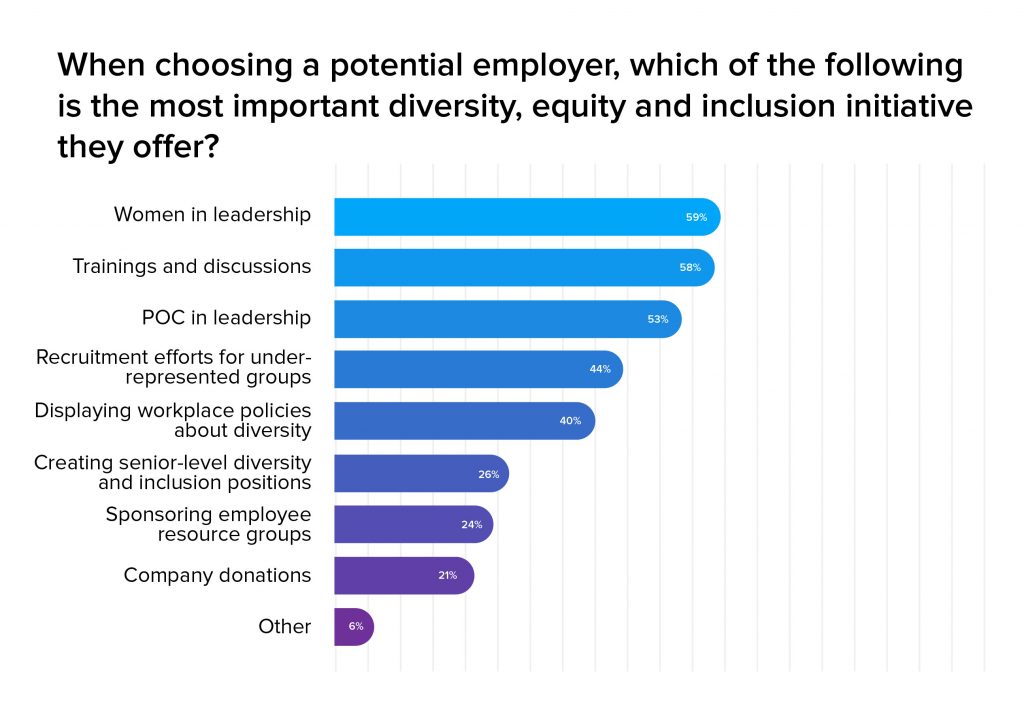 Additionally, the top three most important factors for Gen Z when thinking about their future work environment include having a fair and ethical boss (72%), the ability to be heard (61%) and making an impact socially and economically (47%). 
Next Steps:
Interested in data that will help you better understand your future workforce? Tallo's Perception Analysis provides insight into what is driving future talent so you can develop proactive engagement strategies and connect with Gen Z. Contact us to learn more.
Methodology: 
Total Respondents: 1,231
Survey Respondents: Gen Z
Tallo platform data: Tallo has over 1.4 million talent users. Our user population includes talent in middle school or high school (47%) and post high school (53%). Tallo talent is represented in all 50 states and all data is self-reported.
Student Survey: This survey was conducted by Tallo between April 15, 2021 and May 1, 2021 and produced 1,231 respondents. Tallo users that responded to this survey indicated an interest in obtaining a scholarship and are a current high school or college student in the United States.
Data Analysis: We leverage our platform to supplement survey data with data attributes that talent self-reports on their user profile including gender, race/ethnicity, and geography. Our survey responses are intended to be as inclusive as possible.