Having a set purpose can motivate students to persist toward their goals. However, establishing a set goal that compliments a student's personality and aligns with their interests, values, and preferences can be tricky. In 2020 and 2021, Tallo surveyed current high school and college students about their career preferences to understand how educators can increase graduation rates and guide students toward their next step. Interest in work remains one of the top three factors that motivate this generation to accept a job offer, which led us to discover two out of three current high school and college students find it important to have a job that is personally fulfilling.
While asking students about the future self they imagine is a decent first step in goal setting, equipping them with tools offered in Tallo's Assessment to understand their personality, interests, values, and workplace preferences will allow them to set and work towards specific personal or professional goals that honor their sense of purpose. Students who have knowledge of their personalized career and educational pathway results and recommendations will be able to confidentially communicate their ideal environment to educators, recruiters, and potential employers after high school. 
Why You Should Use Tallo's Award-Winning Career Fit Assessment to Guide Your Students to Their Purpose 
Tallo's Purpose and Meaning Career Fit Assessment is: 
Quick! View results in less than 20 minutes

Comprehensive​​—results include local job matches, average salaries, and education pathways 

Scientifically validated and backed by a National Science Foundation Award!

ESSER funding

and Perkins-funding approved 

Flexible for a variety of use cases: in the classroom, in the guidance process, or career services 
Some assessment questions or groups of questions have an obvious objective in mind, which can bore or deter students from genuinely considering each question they're answering, providing inaccurate assessment results. Our patented Assessment provides students with a better understanding of their values, interest, personality, and workplace preferences with fewer items than most assessments on the market. Don't just take our word for it though, check out what high school students are saying about our Purpose and Meaning Career Fit Assessment and fill out the form below to access your own personal Assessment.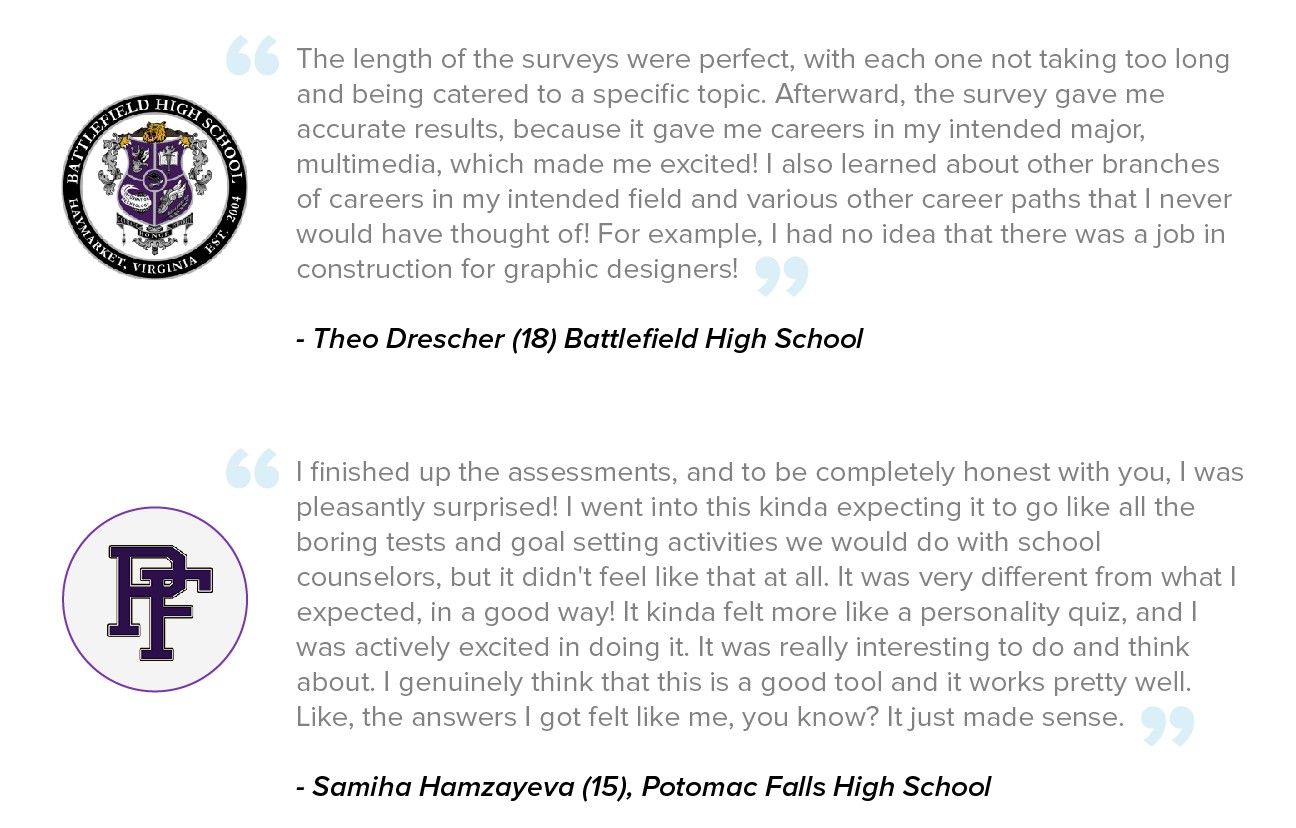 Guide your students to their purpose and try out the assessment today.