Thinking about a career in carpentry? You won't regret it. Carpentry can be physically demanding work, but if you love working with your hands, it's one of the best trade jobs you can get.
Carpentry is a broad field that represents a diverse range of skills and crafts. Some journeymen become general carpenters (aka, rough carpenters), while others choose to specialize as joisters, roofers, or finish carpenters. No matter which area of carpentry you're leaning toward, your career will almost certainly begin with an apprenticeship.
What is a carpentry apprenticeship and how do you get one? In this post, we'll answer all your questions about carpentry apprenticeships. 
Related: What Is an Apprenticeship?
What Is a Carpentry Apprenticeship?
A carpentry apprenticeship is a paid training program in which a novice worker spends time working alongside a journeyman carpenter, learning the skills he or she needs to succeed in the field. In other words, you get paid to learn how to read blueprints and building codes, comply with OSHA standards, fabricate wood frameworks, and install structures into buildings.
A carpentry apprenticeship isn't just a job—it's also your education. In addition to on-the-job training, you'll also need to dedicate a certain number of hours to classroom training and instruction.
What Do Carpentry Apprenticeships Do?
Your daily duties may vary depending on the apprenticeship program. There are many different types of carpenters, after all. However, most carpenter apprentices can expect to carry out the following tasks:
Reading blueprints and building codes

Ordering timber and other materials

Moving wood materials to and from the labor site

Measuring, cutting, and assembling materials

Nailing panels together

Making repairs to wood frameworks

Installing structures, such as frames, windows, flooring, and trim

Following established safety procedures per OSHA regulations
How Long Does a Carpentry Apprenticeship Take?
Most apprenticeship programs require 8,000 hours of on-the-job training, which takes roughly four years to complete. But don't worry! You'll be paid for all those hours. Plus, your salary will steadily increase as your skills develop.
Upon completion of a formal apprenticeship, most apprentices will be known as journeyman carpenters. However, keep in mind that union apprenticeships may work a little differently. Union carpentry apprenticeships, such as those associated with the United Brotherhood of Carpenters, may require you to pass a skills test before granting you official journeyman status. 
How to Get a Carpentry Apprenticeship
First, consider a pre-apprenticeship, which is simply a program that prepares you to succeed in a registered apprenticeship. Pre-apprenticeship programs are generally aimed at helping underprivileged individuals meet the entry requirements for their desired apprenticeship, giving them an equal shot at securing a high-paying job without a degree.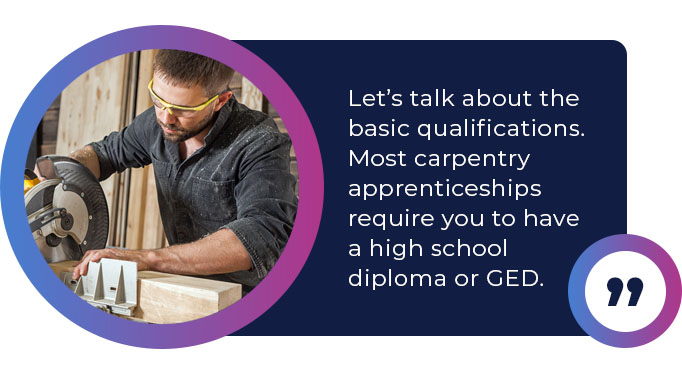 Speaking of entry requirements, let's talk about the basic qualifications you'll need to become a carpentry apprentice. Most carpentry apprenticeships require you to have a high school diploma or GED. You'll also likely need to have a valid driver's license, specific math skills, and be in relatively decent shape.
If you meet those basic qualifications, the next step is to apply for a registered apprenticeship. You can find apprenticeships online or by getting in touch with your local carpenter union. 
How to Succeed as a Carpenter Apprentice
Once you're accepted into an apprenticeship program, it's time to put in the work. Here are a few tips to help you succeed as a carpenter's apprentice:
Show up at least 10 minutes early each day and turn off your phone. Bring your own tools if you have them. 

As a beginner apprentice, you'll probably be doing a lot of unglamorous grunt work. Do it without complaint, and you'll earn respect. 

Observe carefully, and don't be afraid to ask questions.

Don't just stand still. There is always something to clean or organize.

Carpentry can be tough on the body. Keep it in good shape by doing yoga and eating healthy.
Above all, remember to enjoy your apprenticeship. This is a great opportunity to learn the ins and outs of carpentry. More than that, it's a great way to launch an exciting career that lets you do what you love every single day. 
Building a Career from the Ground Up
Like many skilled trades, a career in carpentry can provide a great wage, job security, and the opportunity to do deeply rewarding work. If you know your way around a toolbox and enjoy woodwork, consider starting your carpentry career with an apprenticeship. You won't regret it!
DISCOVER OPPORTUNITIES WITH TALLO
Image Credits
Source: Everyonephoto Studio/Shutterstock
Source: guruXOX/Shutterstock
Source: antoniodiaz/Shutterstock