You're finally ready to embark on a new and exciting career. But there is just one small problem — you don't have the money or, frankly, the time to get a four-year degree at a university.
Well, friend, we have good news: You don't necessarily need a degree to launch a career. Paid training programs and apprenticeships make it possible for you to earn a steady paycheck while you learn the technical skills you need to excel in your new role.
Related: What Is an Apprenticeship?
The best part? Many paid training programs and apprenticeships require little to no experience to get started. And if you decide to get a union apprenticeship, you could potentially score additional job perks, like greater job security and higher wages.
Are you ready to do a 180 on your career? Here are eight paid training programs that will pay you to learn the job-ready skills you need to succeed.
1. Certified Nursing Assistant (CNA) – As the baby boomer generation ages, long-term healthcare facilities will need more nursing assistants and orderlies to care for older patients. CNAs provide hands-on healthcare to patients and assist them with daily activities such as bathing, dressing, and eating. Unlike registered nurses (RNs), CNAs aren't required to hold a college degree. All you need is a CNA credential, which is often paid for by the employer. 
2. Electrician – Looking for a high-paying career with plenty of room for advancement? Get an electrician apprenticeship and work your way up to journeyman status. You'll earn a good wage from day one while learning how to install and maintain electrical systems under the close supervision of a journeyman electrician. If you're interested in electrical engineering, you could also get an engineering apprenticeship. 
3. Chef – Got a passion for food? Become a chef! While many aspiring chefs attend culinary school, others get their start through a chef apprenticeship. Just imagine it: You can get paid while learning how to whip up a restaurant-quality meal and wear that fancy, white hat. (Admit it, you've always wanted to wear it.) According to the Bureau of Labor Statistics (BLS), the average salary for a culinary chef in 2019 was $51,530 per year — not bad for a job that doesn't require a degree.
4. Phlebotomist – Fun fact: 15 percent of the adult population faint at the sight of blood. But if you're not one of them, consider a career as a phlebotomist! Companies like the American Red Cross offer paid training for you to help draw and collect blood for their mobile blood drives. Be prepared for lots of vampire jokes, particularly around Halloween.
5. CDL Truck Driver – Skip the truck driving school that makes you pay for your commercial driver's license (CDL). Instead, look for a company-sponsored CDL training program that will hire and pay you on day one. While driving for long periods of time isn't everyone's cup of tea, trucking has an extremely low barrier of entry.  
6. Plumber – Contrary to popular belief, plumbers don't just work on toilets. In fact, unless you specialize in septic systems, you'll hardly see more sewage than anyone else. The simple truth is that plumbing can be an extremely rewarding career that leaves you feeling accomplished after a hard day's work. If you're interested in a plumbing career, check out our blog post on plumbing apprenticeships to learn more.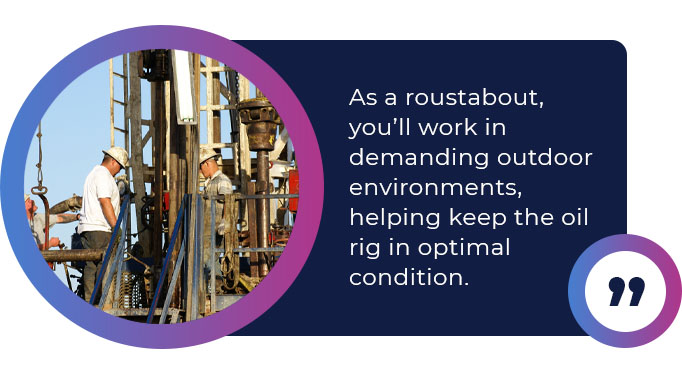 7. Oil and Gas Roustabout – The name may sound a little funny, but make no mistake — oil and gas roustabouts play an important role in the oil and gas industry. As a roustabout, you'll work in demanding outdoor environments, helping your fellow roustabouts keep the oil rig in optimal condition. You don't need any experience to become a roustabout, although, prior experience in construction or engineering industries is a huge plus.
8. Ironworker – Ironworkers like to say that they don't work in an office — they get paid to help build it! If installing bridges, buildings, and other structures sounds like a cool career to you, consider getting an ironworker apprenticeship. With an apprenticeship, you can get paid to learn the ins and outs of ironworking. The job itself can be physically demanding. But for the right individual, ironworking can also be a deeply rewarding career path.
Start Your Career Debt-Free
Not everyone is cut out for college. If you're not interested in earning a degree or simply don't have the time, these paid training programs can help you launch a successful career without massive debt.
Image Credits
Source: Dmitry Kalinovsky/Shutterstock
Source: Richard Thornton/Shutterstock
Source: wavebreakmedia/Shutterstock