You really wanted to visit your prospective school's campus in-person. You wanted to see the beautiful campus and smell the quad's cherry blossoms. You wanted to hear your tour guide's corny yet endearing jokes about walking backwards. We totally get it.
Unfortunately, an in-person college tour just isn't doable for you right now. Whether due to the pandemic or sheer distance, you're saddled with a virtual college tour instead. The good news? With Zoom sessions, live webinars, and 360-degree drone video footage, virtual college tours have gotten much better at giving students a feel for campus life before they apply to college.
Don't believe us? Check out these six schools that are offering virtual college tours and see for yourself.
Related: Virtual College Fairs
1. UC Berkeley – Berkeley, California 
Ranked the top public university in the world by U.S. News & World Report, the UC Berkeley campus is definitely worth checking out — yes, even virtually. Prospective students can sign up for an hour-long virtual campus visit (via Zoom) and listen to Berkeley's student ambassadors spill the tea on the school's history, traditions, academics, college scholarships, housing, and all that jazz. Planning to major in engineering? The school also offers engineering-specific visits.
Did You Know? It's safe to say you'll never run out of reading material at Berkeley. Their University Library system features 20 libraries and over 11 million electronic journals. 
2. University of Washington – Seattle, Washington 
If you're thinking about applying to the University of Washington (or "UDub" as the students call it), be sure to check out their virtual college tour, which gives you a true taste of the Husky experience. Along with taking a self-guided virtual tour, students can listen to UW student stories and chat with current UW students to see what life is like on UW's scenic campus.
Did You Know? The University of Washington is ranked the 8th best global university and is home to a world-renowned medical center. They also have the cutest mascot — a husky named Dubs. (Not to be dramatic or anything, but we would die for Dubs.)
3. Boston College – Chestnut Hill, Massachusetts 
Although it would be nice to see Boston College's dramatic gothic architecture in person, this private research university offers the next best thing: live virtual tours of the Chestnut Hill campus. On BC's virtual tour, prospective students can get an up-close view of the campus while asking questions. Fairly certain that Boston College is right for you? Sign up for their Virtual Eagle Eye Campus Visit, which features a panel discussion with Boston College students who answer all your questions about the application process and financial aid.
Did You Know? BC has the third-highest graduation rate in the nation for Pell Grant recipients, only behind Cal Tech and Princeton.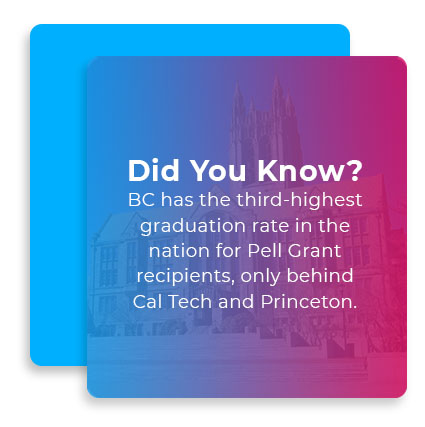 4. Colorado State University – Fort Collins, Colorado 
Colorado State makes it super easy for prospective students to see what life would be like as a Ram. CSU offers a series of virtual events, including live virtual tours, application workshops, Q&A panels, and so much more. Schedule a one-on-one with an admissions officer to learn more about your major, CSU's programs, campus life, and when to apply for college scholarships.
Did You Know? Calling all STEM majors! Colorado State University's research programs are among the best in the nation, offering students a variety of opportunities to participate in research and showcase their own projects. 
5. Berea College – Berea, Kentucky
Ranked #33 in National Liberal Arts Colleges by U.S. News, this private college offers two types of virtual college tours: a regular virtual college tour and a twilight virtual college tour. The regular tour, which takes place on Zoom, includes a 30-minute chat with an admissions officer and a live campus walking tour with a student ambassador. 
Did You Know? At Berea College, students don't pay tuition (yep, seriously). Check out our blog – Is Community College Free? – to learn more about how tuition-free schools work.
6. University of South Carolina – Columbia, South Carolina
In addition to offering socially distanced visits in person, U of SC boasts a slew of immersive virtual experiences for prospective students. Register for their online campus tour, which is a live, student-led tour that takes students to popular spots on campus and lets them see what life is really like as a Gamecock. Or enroll in their Undergraduate Admissions Virtual Series that talks about the college search process and provides an in-depth look at the university's academic programs and student services.
Did You Know? The historic Horseshoe — the U-shaped formation of buildings around a gorgeous green space — served as the university's original campus in 1801. Today, it's a popular spot for students to hang out in-between classes.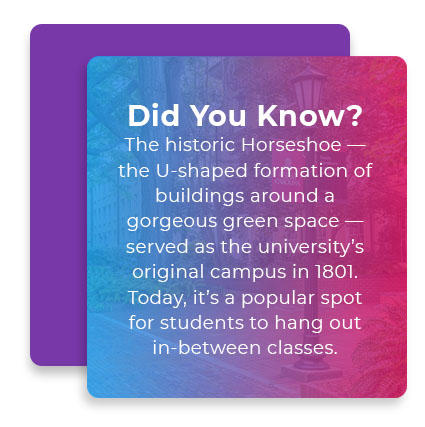 Embrace the Virtual College Tour
While nothing can replace the energy and excitement of an in-person campus visit, these virtual college tours can provide students with the next best thing. Didn't see your prospective school on this list? NBD, just go directly to their website and see if they offer virtual college tours. Good luck!
Image Credits:
Source: insta_photos/Shutterstock
Source: biggs/Shutterstock
Source: Ken Wolter/Shutterstock