Transferring from community college to a university can be an excellent way to save money on a bachelor's degree. But there's just one problem: the transfer process can be a major headache. Depending on the schools you're planning to attend, there could be a lot of red tape that you run into while attempting to transfer.
That's why your best bet is to choose a school with a guaranteed transfer program (GTP), which is a program that guarantees an easy transfer process after you earn an associate's degree at a community college. But if your dream school doesn't have a GTP, don't stress! Here's a no-fuss guide for transferring from community college to a four-year school.
Start Studying for Placement Tests
Most community colleges require incoming students to take placement tests to get a sense of where they are academically. To make the transfer process easier, you definitely want to study for these tests! If you bomb a placement test, you'll end up in remedial classes that offer NO credit. (Tip: Check out Khan Academy for some test prep resources and start brushing up on your math and English.)
While we're on the subject of tests, you should also be aware that transferring from community college to a university doesn't get you off the hook for taking college entrance exams. (Huge bummer, we know.) Even though most community colleges don't require SAT or ACT scores, some universities and colleges — especially selective schools and liberal arts colleges — will require you to submit test scores upon transferring.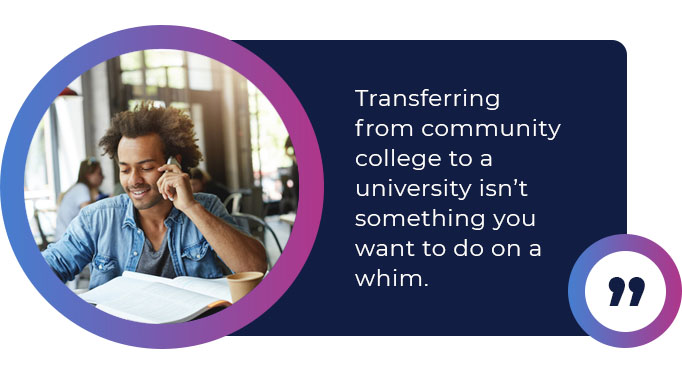 Make a Plan 
So, this might sound obvious, but transferring from community college to a university isn't something you want to do on a whim. You want to be sure that all of your credits will transfer, and to do that, you need to start doing your research and cobbling together a transfer plan.
The first step is to figure out what you want to do career-wise. (You can check out our blog – How to Choose a Career – to start getting some ideas.) Then, pick a major and make a transfer plan. 
FYI, it's totally OK if you decide to change your major later. At least 30 percent of students end up changing their majors within three years of declaring them, according to the U.S. Department of Education. Still, it's a good idea to at least have a tentative path forward before you begin the transfer process.
Get Assistance 
Transferring from community college to university shouldn't be a solo expedition. To ensure a smooth transfer, start building relationships with the people who can make your life a heck of a lot easier. 
Your high school counselor can be a great resource. Your school counselor can help you with the early stages of career planning, as well as figuring out which college pre reqs you need to knock out before enrolling in a specific program.
Two other key players you should have in your corner include your academic advisor and your community college professors. And if your school has a transfer counselor, by all means, use them. It's literally their job to help students transfer, so take full advantage!
Figure Out Your Finances
Many students who intend to transfer to a four-year university end up failing to transfer due to financial struggles. To avoid this common pitfall, start researching financial aid packages and look into tuition-free community colleges.
Related Reading: Is Community College Free?
You should also fill out the Free Application for Federal Student Aid (FAFSA) if you haven't done so already. FAFSA helps determine a student's financial need for grants and scholarships (check out our blog – What Is a Need-Based Scholarship? – to learn more). 
Federal student aid on its own likely won't be enough to cover all four years of school, so be sure to look for additional college scholarship opportunities and consider a work-study program to help you cover the rest.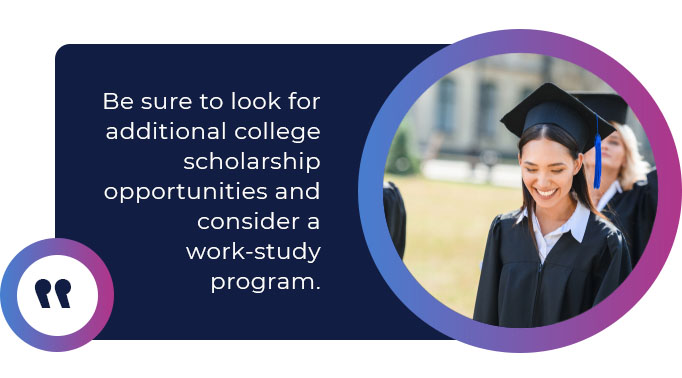 Set Yourself Up for Success
When it's time to transfer, don't forget to attend your school's orientation. Even though you're already a college student, your school's orientation can be super helpful. You're going to a new institution and, likely, a much bigger school. Orientation is your opportunity to meet new students and faculty, learn about your school's resources, and take advantage of everything your school has to offer.
Making the Leap to a Four-Year School
Transferring from community college to a university can be easy or difficult, depending on your situation. While some schools have strong transfer pipelines, others tend to make the transfer process a challenge from start to finish. But don't let that deter you from chasing your bachelor's degree dreams! With proper planning and good counseling, you can stay the course and transfer to a university without wasting time or money.
Image Credits
Source: LightField Studios/Shutterstock.com
Source: WAYHOME studio/Shutterstock.com
Source: Syda Productions/Shutterstock.com